Along with getting to visit with my daughter in Maine, I went that far north to run a race.  The 24th Kennebunk Beach Classic was the one I had picked to go to and it truly was the correct choice.
  
Race headquarters was at the senior and the center is the beneficiary of the funds raised.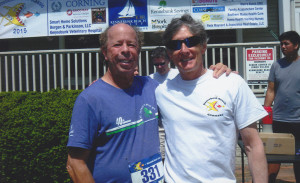 Rob is the race director and announced that a record number of runners/walkers attended the event that day.
Rob was everywhere doing everything that day, as most of us organizers always are on race day, but was always smiling. 
  
I also realized in looking around that I was not running a race in my home area of western Mass.
Check out the 2 entries I have next to see Team Hoyt and other great people I met that day.