There were smiles before and after the race. Brittany(blue cap) and Emily were smiling before they even came through the tent doors to get their bib numbers. They brought some warmth with those smiles on a cool day.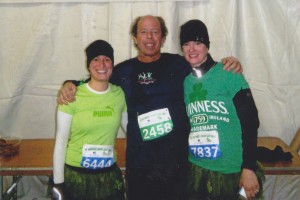 Here are 2 names I never got, but as you can see,  these 2 green clad women were still smiling after the race while enjoying some food in the same tent. 
And Darryl was someone with one of those inspiring stories.  He reached a point that he weighed 287 pounds and then took his life and health back.  He came through the tent doors this year weighing under 185 pounds.  I'm proud of you my friend. You will inspire many people to live longer and more fulfilled lives.
There is just one more entry after this one. Read it and then decide to come to the race next year, track me down, and have me put you o this site.