Some of the first people I met after arriving were Lynda, Alex and John.  John is a fireman and runs races wearing….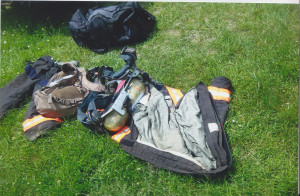 full rescue gear.  From the heavy fireproof suit to the oxygen tank, helmet and mask. 
He is training to break the half marathon record for people that run wearing full gear.  UNBELIEVABLE. 
Check out the next few entries to see the festivities and participants on that great day