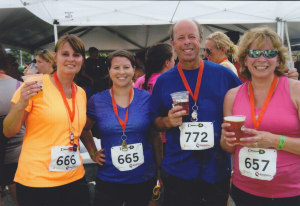 Meet (r-l) Chris, Rene myself and Nancy.  They are new members of the Wormtown Runners Club based in Worcester. 
  
Now meet more members of the Wormtown Club.
  I've known Stephanie(white cap) for 4 years.  I met her at this race, which was her first race ever.  That was the year my daughter ran her first race, which was at this race.
I met Carol (back row far left) last year at this race.  The rest of the people in the photo I either met saturday for the first time or at a race very recently.  And, because of this crazy running world, I now feel like I have a second family in Worcester.
There are more photos in the entries following this one.